Gigi Gelato
Italian gelato goes vegan
While visiting This Page Amsterdam, Dan asked our advice about the packaging design for a startup called Nude Gelato. That was the beginning of a yummy adventure into vegan ice cream – and the creation of a new brand of vegan gelato, made with fresh, cold-pressed fruit and vegetable juices.

Digging deep into the ice cream world
In a crowded market like ice cream, you really need to know what's going on. That way, you can make the right decisions for your new brand. So we investigated dozens and dozens of healthier ice creams and ice cream pops and smoothies – from small, local pints to established brands entering the non-dairy world. Savory vegetable yogurts were also an inspiration, as were craft gins and their lovely labels showing expertise and crafting, approachable sophistication and sense of trust.
We analyzed each brand's messaging, USP focus, and similarities and differences between Nude Gelato and their competitors – then looked at the image of gelato versus ice cream, and the growth of veganism. All this helped us to create a unique:
Brand personality
Target audiences profiles
Tone of voice
Hierarchy of claims
Unique USPs
Tagline
Going from Nude to Gigi Gelato
But something kept bugging us. The name, Nude Gelato. After hearing all their stories about the wonderfully charismatic and inventive maestro behind this new type of gelato – Luigi Graziosi – we remembered Gigi, a dear old friend in Trento. That's the Italian nickname for Luigi. And so Gigi Gelato was born.
Gigi Gelato has the perfect homemade, local and friendly feeling for the brand, and is about craftsmanship, expertise (even on a molecular level) with, of course, an Italian background.
Designing Gigi and naming flavors
Once we delivered our work – market research, competitors, trends, styles, naming, taglines and a well-defined framework from a design perspective – This Page Amsterdam had what they needed to create targeted mood boards, explore colors, fonts, and more.
Working as a team, Brandframe and This Page Amsterdam chose the color palettes – and designed the Gigi logo and packaging. The new flavor names were written to sound yummy and colorful. And we also wrote packaging texts that told the story of Gigi, the man behind the gelato.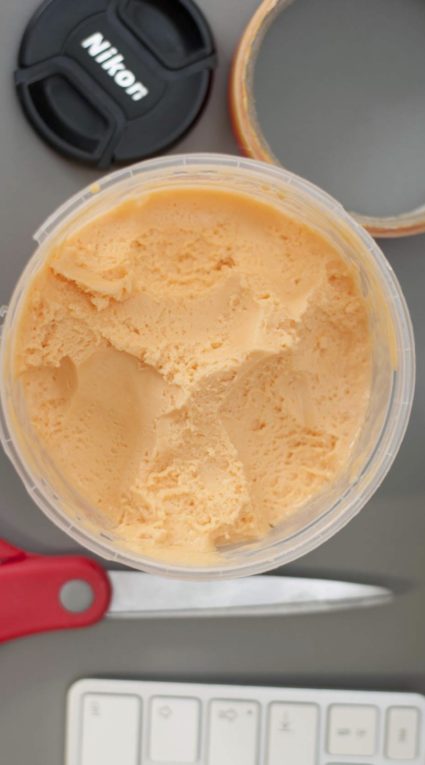 "Innovative food-to-go product of the year"
It makes us smile to see Gigi Gelato growing, as they enter Dutch and UK supermarkets – and even happier that they've won the "Innovative food-to-go product of the year" at Food Matters Live. Way to go, Gigi!